The multifunctional and open city pavilion is an architectural masterpiece designed by the architects Robbrecht & Daem / Marie-José Van Hee. The roof structure and the use of glass, wood and concrete are very striking. This location can host concerts, dance performances and markets.
Underneath the city pavilion, in addition to the Bike Point, you can also discover a 'grand café'. Sgol is a grand café with Italian flair thanks to chef Mauro Menichetti. He serves both the classics and seasonal dishes, with attention for regional products.
The city park on the lower level, The Green, is surrounded by a stone wall. This is the place to be if you're looking to relax, read or simply hang around. Stairs and ramps connect the park with the street levels higher up. Diagonal walking paths connect the Donkersteeg with the Mageleinstraat and Cataloniëstraat, inviting you to shop and enjoy a stroll. 
Works of art
The existing art elements – the Minne sculptures and the Mathildis clock – were given a new place in the design. 
Spring of the Bereaved
The naked youngsters look at their reflection in the water of the fountain, just like Narcissus, the Greek mythological figure did, out of narcissism. When the statue was placed here in 1937, the bourgeoisie thought it was immoral. Today no one is shocked by these naked boys. George Minne, the artist, sought inspiration in the statues on the Gothic buildings.
The Roeland Bell
The song "Klokke Roeland" (Roeland Bell) is probably the most famous folk song in Ghent. This bell is known as 'The Triumphant' and as 'Roeland', after the first large bell at the Belfry. The bell cracked in 1914 and was removed from the Belfry and restored. Today it is displayed on a specially designed base next to St Nicholas' Church. Are you interested in witnessing the Ghent carillon for yourself? Then you must visit the Belfry.
De Maagd
The Belgian artist Michaël Borremans donated his fresco, "De Maagd" (The Virgin), to the city. It portrays a black-haired girl against a dark background. Except for a white collar, the girl is dressed entirely in black. Two crystal-clear rays of light emanate from her eyes. You can find the painting on the bell cage above the door of the lift. The artist's signature at the back of the work, in the bell cage.
Stadshal Gent
The city hall is a prime example of contemporary architecture. The building even made it to the final of the prestigious Mies Van der Rohe Award.
Only available in digital format.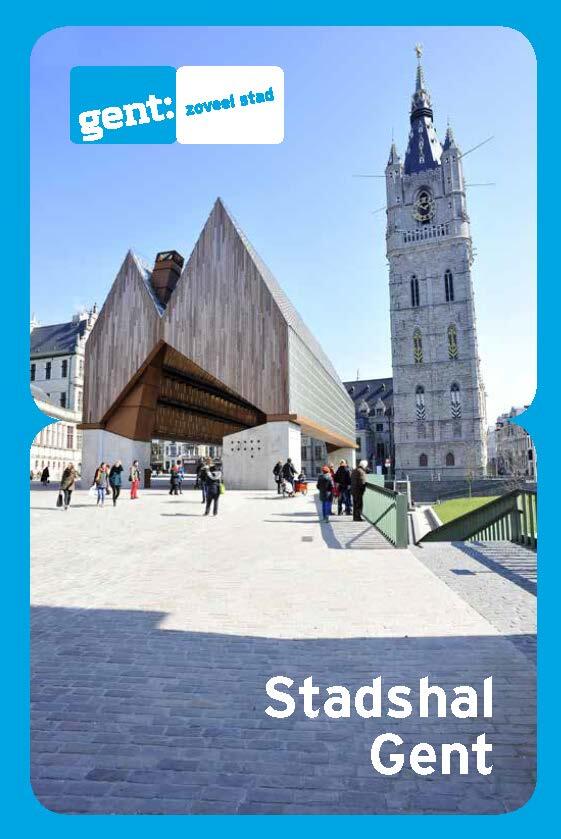 The information continues beneath the illustrations.