The Ghent University Museum is located at the heart of the Ghent Botanical Garden, right around the corner from MSK Ghent and S.M.A.K. The GUM is a museum dedicated to science, research and critical thinking, where visitors can discover that scholarship is the result of trial and error, doubt and imagination.
At the science museum, visitors can discover a highly valuable and exceptional collection covering various disciplines, ranging from Biology to Archaeology, and from Psychology to Medicine. The collection is where the history of science and contemporary research meet, while simultaneously offering a glimpse into the future. Throughout the exhibits and the programme, the GUM will be exploring the bridge between science and art.
This award goes to an outstanding museum, dedicated to science, art and critical thinking, where visitors are invited to discover that science is born out of doubt and imagination. This museum inspires its visitors to reflect on the plurality of meanings and develop scientific literacy in a fascinating and captivating way.
ROA on the façade of the GUM
ROA ranks among the top of street artists of the world and is renowned for his black-and-white murals depicting animals. His works can be found all over the world, including in Ghent, the city of his birth.
For his work on the façade of the GUM, ROA found inspiration in the collections and stories of the museum. The 290 square metre façade constitutes the canvas for his skeletons of an elephant, an grizzly bear, an okapi and a rhinoceros. The mural is partly visible from the street, but if you go to the Botanical Garden, you can admire the entire work.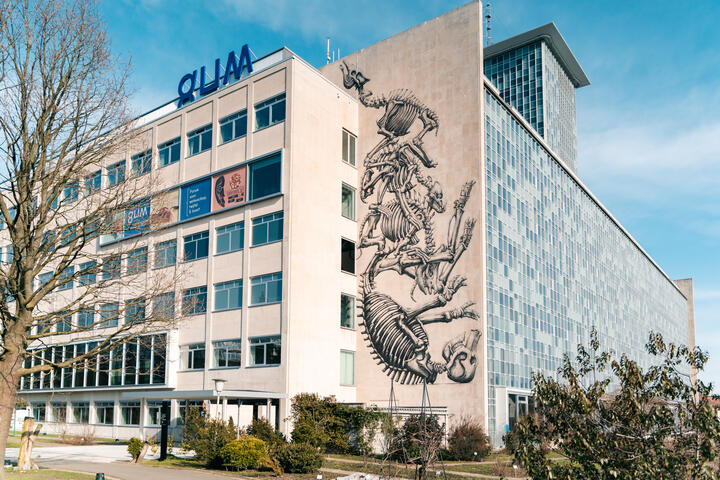 The GUM with children
Are you out and about with curious children? Then this museum is a must.
Professor DOUBT and the reSEARCHtour are quests through the museum aimed at children.
The information continues beneath the illustrations.
Opening hours
Entrance fee
Reduction groups min. 10 pers.
Reduced rate for escorts accompanying persons with disabilities
Accessible with a CityCard Gent