Blaarmeersen Sports and Recreation Park is a green jewel beside the Watersportbaan in Ghent. This is where Ghent residents come jogging, and rowing clubs battle it out on the water. The Watersportbaan in Ghent is also the setting for many festivals and activities for people of all ages.
Fun and leisure for everyone in Ghent
Let yourself be seduced by all that the Blaarmeersen has to offer, all year round. It is a lovely area for walking, with a vast lake. You can swim, hire a pedalo, or go kayaking, surfing, fishing and diving. A water park with a slide for children and a large, sandy beach for everyone makes the Watersportbaan in Ghent complete. If you're looking for sporting activities in Ghent, this is the place to be!
The opening hours of the swimming area are:
From 20 May to 23 June 2023 daily from 1 PM to 7 PM

From 24 June to 31 August 2023 daily from 11 AM to 7 PM

from 1 to 17 September 2023 daily from 1 PM to 7 PM
Blaarmeersen beach area: book your spot
Visiting the Blaarmeersen for a refreshing dip in the swimming pond or sunbathing on the beach?
As a non-resident of Ghent you can book online until the day before 9am at €1 per person; after 9am a day ticket costs €5 per person (free for children under 12 and visitors of the camping Blaarmeersen - Urban Gardens).
Pure pleasure and sporting activities
This park near the historic city centre of Ghent offers a green relaxation area and all sorts of sporting activities. With its large lake and countless opportunities for sports and recreation, the Blaarmeersen is all about fun. Here you will find a fit-o-meter, skate park, petanque, mini golf, aerial trekking course, team-building trail, jungle trail with climbing rocks, beach volleyball, a large playground with a maze, orienteering and a sports pitch. Looking for sports in Ghent? Here you have football, tennis, squash, rugby, athletics, you name it. Welcome to the Blaarmeersen sports and recreation park in Ghent. The place to be if you love sports!
Would you like to go for a ride with your family from the city centre to the Blaarmeersen sports and recreation park?  Follow the children's bicycle route and have fun!
Canoe and kayak tours
Explore Ghent from the water! On the accompanied canoe and kayak tours offered by the city of Gent, you can paddle down the Leie past the picturesque Afsnee or right into the historical centre. During an evening torchlight tour, you can see 'Ghent by Night' at its most magical.
From the Easter holidays until the end of September
For groups of min. 10 to max. 48 participants
Starts and ends in the Blaarmeersen Sports and Recreation Park
Minimum age 12 /ability to swim
Friday - Saturday: torch-lit parades
Saturday - Sunday: day trips
Average duration of the tour: five hours (including break)
Book your canoe or kayak ride 4 weeks in advance.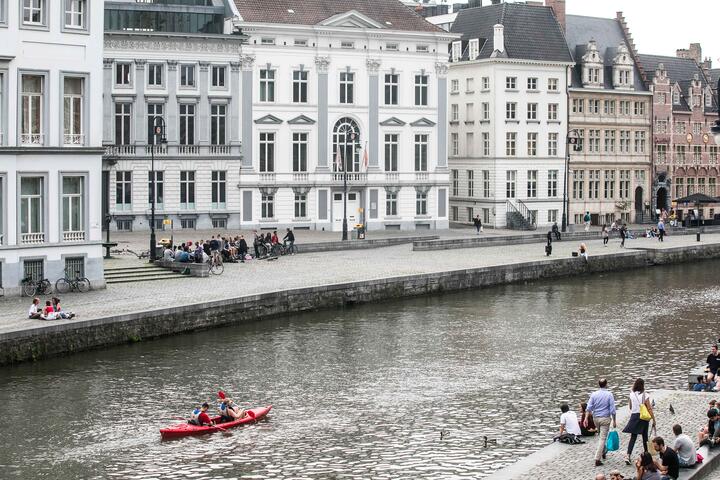 The information continues beneath the illustrations.
Entrance fee
Toegang met auto (01/05-31/08)