This architectural work of art is a unique meeting place for residents, students and visitors. The imposing building is located on a spot formerly known as 'Waalse Krook', next to a bend or crook in the River Scheldt, where coal from Wallonia used to be unloaded from barges.
You can meet other people there, discover culture, enjoy a quiet drink or even try out innovations and technologies like 3D printing and virtual reality for yourself. As well as connecting people, the building links the Historic Centre with the Art Quarter. 
Various institutions work together and offer services at the site. They are known collectively as 'the inhabitants of De Krook'. In addition to the city library, Imec (the Flemish research centre for nanoelectronics and digital technologies), University of Ghent and Urgent.fm are housed at De Krook. 
The building also includes a multi-purpose room, a study room and a reading café. 
A wonderful piece of architecture
The monumental building, which incorporates works by artist Michaël Borremans, was designed by the Ghent architecture firm Coussée & Goris Architecten and their partner TV RCR Aranda Pigem Vilalta Arquitectes. This Spanish architecture firm also won the Pritzker Prize this year, the highest international distinction for architecture! 
A place to relax on the waterfront
In the bend of the river Scheldt a quay promenade, Nelson Mandelapromenade, has been constructed with lots of facilities to sit and relax. The site also features moorings for pleasure yachts and taxi boats. The quays and their environment have been converted into a green area, the perfect place to escape the hustle and bustle of the city.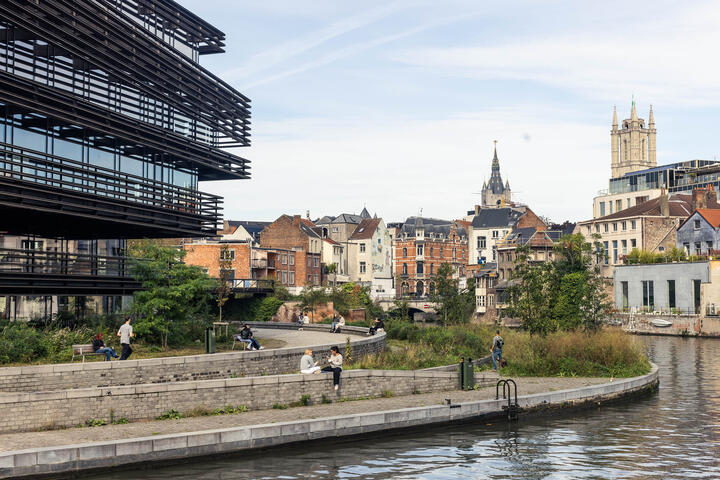 The information continues beneath the illustrations.