People sometimes say you can recognise a vibrant city by its street art. Ghent is a canvas for street artists, a hip and free-thinking cultural city where everyone is welcome and free to do their thing.
Ghent today is a graffiti-friendly city, with many works by artists such as Roa and Bué the Warrior. Want to see more graffiti hotspots? Why not discover a different side of Ghent with the 'Sorry, not sorry' street art plan of Ghent, an overview of the city's colourful graffiti.
Sorry, Not Sorry - Street Art Map Gent
Fans of street art are in luck with this map showing all kinds of outdoor art. The walk along street art in the city centre is doubly interesting, as this tour is not only an introduction to Ghent's street art, but also brings you to some tourist highlights. Ghent's street art scene is booming and fits in wonderfully with the historical city.
Available in 3 different languages: Dutch, French and English
A paper version of this brochure is also available in the tourist office.
Van Eyck street art
On the occasion of the theme year "OMG! Van Eyck was here", Ghent welcomes a number of top national and international artists to brighten up the city center with a work of art inspired by the Mystic Lamb.
The works below are just a sample from the large amount of street art in Ghent. Take a walk round and discover the city's colourful street art.
Graffiti Street, colourful, ever-changing alley
The car-free Werregarenstraatje in the centre of Ghent is a graffiti tolerance zone. Officially it is not permitted to do pieces and tags here, but the authorities turn a blind eye. The tolerance zone emerged during the Ghent Festivities in 1995 as a graffiti project with a limited number of works on the walls. Werregarenstraatje quickly earned the nickname "graffiti street".
Nowadays, the street is a cacophony of colours. Werregarenstraatje is a public canvas for young street artists. Here, street artists create striking spray-can art to their heart's content. This means that Graffiti Street in Ghent never looks the same from one week to the next. Do you like to explore off the beaten track? This alleyway is worth a detour during your weekend getaway. An alley full of colourful Instagram shots.
Mural Joachim, street art along the water
Joachim (full name Joachim Lambrechts) is a very promising street artist from Lier. He has built up a strong reputation in the international street art scene, with murals and exhibitions in countless cities, and a permanent gallery in London. With his outspoken, joyful graffiti pop art style, it is impossible not to notice Joachim within the street art scene.
Joachim created a work on the rear side of the Arteveldehogeschool in the Jongenstragel, the footpath and bike path along the Nederschelde, close to Sint-Annaplein. Believe it or not, but actually there are 2 art works here. You cannot miss the love spreading mural by Joachim. But the little holes in the wall are also an art work, by the artist Michel François. With these holes he makes you think about borders, walls and the limits they create. Doesn't matter what you like most, just enjoy the view and the sweet walk at the waterside.By the way, Joachim first had another idea for this wall, but changed his mind last minute.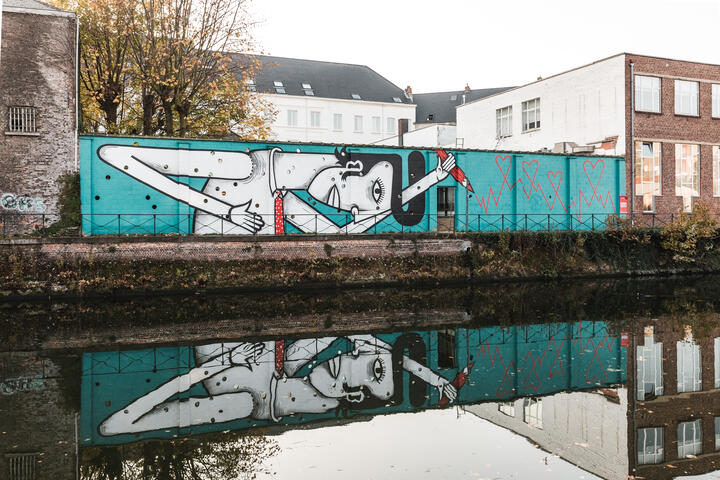 The Four Horsemen of the Apocalypse. Impressive street art from Super A.
Super A is the alter ego of the Dutch street artist Stefan Thielen. With his powerful and realistic murals of fantasy figures, he is definitely one of the leading figures of the Dutch street art scene. Most people know Super A for his images from birds. For Ghent he wanted to try something different, so horses it were. Take your time to have a good look at this one!
Graffiti area in Koopvaardijlaan
Roa: rabbits and other animals
Ghent local Roa creates huge murals featuring (dead) animals, mainly in black and white. The animals are always found in the local area and are depicted in their purest form.
His paintings testify to a huge interest in anatomy and the animal kingdom. Always working on a very large scale, the murals leave a striking impression on the spectator. Roa's works can be found on buildings in various cities across Europe, the US, South America, Africa, Asia and Australia. There are also a number of Roa's works in his home city.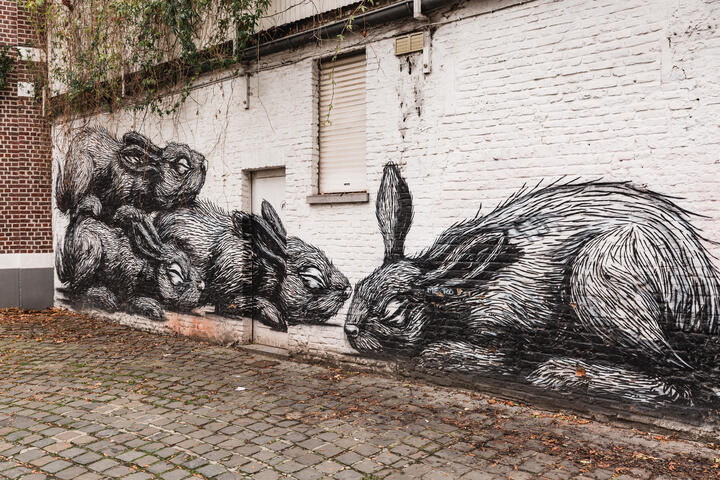 De Maagd. Fresco by Borremans.
Michaël Borremans (1963, Geraardsbergen) is a famous Belgian artist. He trained as a photographer before later applying himself to drawing and painting.
He donated his fresco, "De Maagd" (The Virgin), to the city. It portrays a black-haired girl against a dark background. Except for a white collar, the girl is dressed entirely in black. Two crystal-clear rays of light emanate from her eyes. You can find the painting on the bell cage above the door of the lift. The artist's signature at the back of the work, in the bell cage.
Did you know that you can still marvel at his work in a number of places in the city? In front of the De Krook building is his "De Passanten": a 3m-tall statue with four figures who rest their heads against each other. They symbolise the marriage of knowledge and culture that people experience in De Krook.
Bué the Warrior
Ghent local Bué grew up in a family of cartoonists. He was only 17 when he met 2 street artists on the bus. They handed him his very first 2 spray cans and he hasn't stopped spraying ever since!
With his artwork, Bué tries to put a smile on people's faces and give them a heart-warming feeling. He uses bright colours and happy shapes so his paintings don't look too serious. He created his own visual language and brings colour and positive energy to a street context.
Bué makes murals across the whole world, often together with local graffiti artists. Besides this, he designs clothing, and for children he makes soft toys and other toys, as well as a special kids' clothing line. You can find a lot of Bué's works in Ghent. Look at the Sorry Not Sorry Map and discover them all.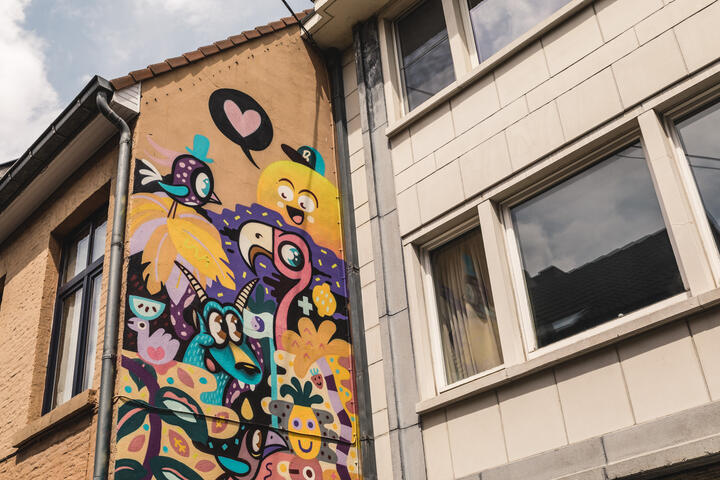 Ericailcane & Bastardilla
Every year, Miramiro invites an artist to design the poster for the Ghent Festivities. During these festivities, the artist in question is also asked to create a mural. Ericailcane and Bastardilla came back to Gent in 2018 to paint this mural.
Bastardilla, a powerful woman from Colombia, is internationally known for her graceful figures, but especially for the meaning of denounce, struggles and social questions, mixed with a fairy stroke.
Ericailcane is an Italian virtuoso who has created a unique universe since his childhood, where people can certainly learn something from the other living beings on our planet.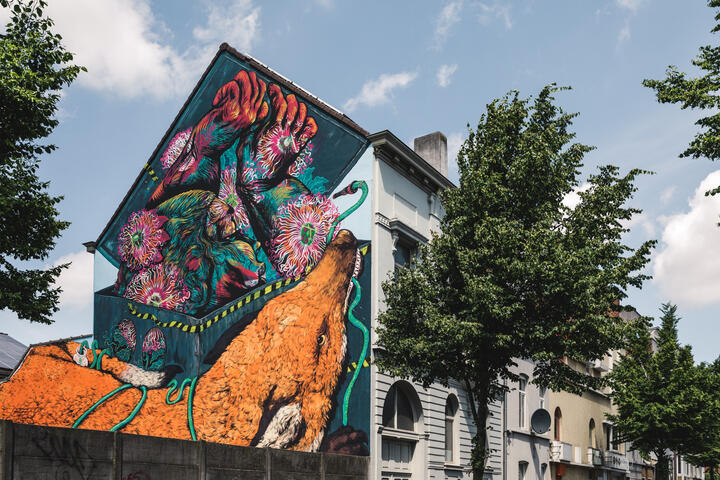 A squid called Sebastian
In the run-up to the third edition of the Sorry, not Sorry festival in 2019, Graffiti vzw and Piazza Dell'Arte joined forces to organise Master Classes in Augmented Graffiti. They matched local youngsters with an experienced street artist, in this case A squid called Sebastian. Together they created a mural from design to the actual execution. The style of A squid called Sebastian is clearly influenced by comics and the work of figurative masters. He is always searching for a certain degree of dynamics and tension in his work, which is clear from his use of colours and his compositions.
Smartphone users will love the project as well, as the youngsters gave the wall an extra dimension with augmented reality.
Street art tours
Are you a street art fan? Be sure to take a look at the different guided tours on offer in Ghent that take you past dozens of graffiti works. The guides' associations listed below offer a selection of street art tours.